About Us
History:
 
Smokey's Farmland Band is based in Atlanta, but named after a 200-acre farm near the town of LaFayette in northwest Georgia. Smokey Caldwell's farm is a rallying point for many of the cavers who explore the magnificent underground caverns of neighboring Pigeon Mountain and is a popular venue for music festivals. Smokey's Farmland Band was formed in 2004 when friends who played music and camped out together on Smokey's land decided to collaborate and further their music. Ian, Justin and Jared played enough music up there that folks on the farm started calling them Smokey's Farmland Band [SFB].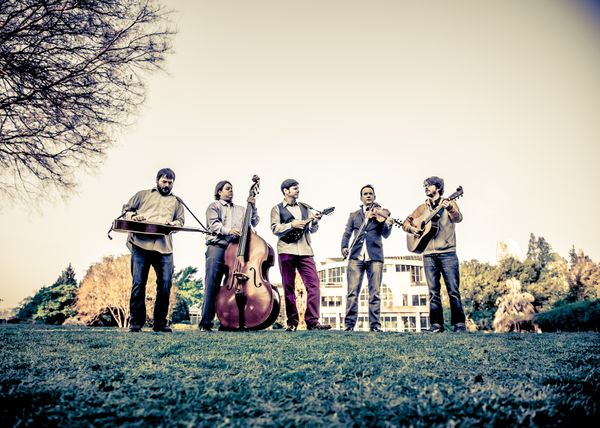 In November of 2005, Trey Gibbs heard these guys picking on a porch in the Atlanta neighborhood of Cabbagetown during the Chomp and Stomp Chili Cook-off and Bluegrass Festival. Everyone started jamming and before long the festival crew invited them onto the stage for a 45 minute set. Rurik Nunan joined on fiddle in 2007 right when the band's repertoire began to broaden from traditional bluegrass music. During the winter of 2008 the band developed a focus on original music and began to incorporate their songs into their performances. By 2009 they had enough songs rehearsed to begin recording a CD at Namaste Studios. Their first album, 80 Mile Getaway, has 11 original songs and was completed in winter 2010. The instrumental tracks "Sundance" and "Calm Before the Storm" were put in rotation as background music by The Weather Channel's Local on the 8s programming. A second CD, "Live Positive", was completed in 2012 and showcases 2 original songs and 8 traditional tracks. A 5 song EP, "Paradise", was recorded in St. Croix US Virgin Islands with friend and songwriter Nate Olive and completed in early 2014. This year also saw the transition of Kenny Lambert, State of Georgia Fiddle Champion 2012, taking over the fiddle duties.
Smokey's Farmland Band blends musical influences ranging from bluegrass to gypsy jazz to Cajun, creating a progressive sound they like to call "Goodtime Eclectic Bluegrass". While they enjoy venturing outside the realm of the traditional, they still respect the roots of bluegrass, and retain the energy and twang of mountain music. A typical set features original tunes, good ol' pickin numbers, and some unexpected covers too. It all comes together in an exciting genre-bending style that keeps listeners on their toes, and on the dance floor!
Among many accomplishments, SFB has opened for Willie Nelson at a sold out House Of Blues New Orleans, Sam Bush at the Variety Playhouse in Atlanta, and recently shared the bill for Del Yeah! with The Del McCoury Band and others. They have also opened for the Emmitt-Nershi Band and The Freight Hoppers, and shared the stage with numerous Atlanta and touring bluegrass bands. The band has traveled to Colorado, DC, NYC, and even St. Croix for performances, winning new fans at stops along the way. Their music is dedicated to the festival experience, camping and dancing in community, out of the way places that retain their beauty, live performance, and people who appreciate getting back to the farm from time to time.

Smokey's Farmland Band is :

Trey Gibbs - Vocals, Mandolin
Ian Newberry - Vocals, Guitar
Justin Roberts - Vocals, Upright Bass
Jared Womack - Resophonic Guitar

Our Twitter handle is @FarmlandBand

Other social media sites include Facebook, JamBase, Reverb Nation

SFB is a band for hire. booking@farmlandband.com Festivals, Weddings, Events, Parties, or whatever you have in mind that needs goodtime eclectic bluegrass.


Trey Gibbs: Mandolin, Guitar and Vocals - Trey grew up in New Orleans, LA and while you can't hear it in his voice, he still maintains the influence of the local food, music and culture. He started singing in his Elementary School choir and by the time he entered High School he had learned to play guitar by ear and began songwriting. Always eager to jam with friends or to go see live performances, he continued to learn music via collaboration and experience. Before graduating from the University of Georgia, Trey was introduced to the incredible jambands of the Athens music scene, and his appreciation for improvisation continued to develop. Trey eventually moved to Atlanta and began to seek out more acoustic styles of guitar, and he eventually found bluegrass music. This contemporary art form rooted in traditional Celtic sound resonates deeply with Gibbs' English and Irish heritage. Trey began playing the mandolin, and it is now his primary instrument. Trey writes songs in a variety of styles taken from all of his musical influences. Trey occasionally plays music with other friends like Charlie Wooton and Michael Tolcher, with whom he performed at the 2009 & 2010 Voodoo Festivals in New Orleans.

Ian Newberry: Guitar, Mandolin, Vocals, and Piano - Ian Newberry grew up in Dallas, GA where he began taking guitar lessons at age 13. During high school Ian participated in Jazz Band and also Atlanta Youth Jazz Orchestra. In his senior year of high school he went to "Everett's Music Barn" in Suwanee, GA where he was first introduced to the bluegrass-flatpicking style of guitar. After high school, Ian enrolled in the Jazz Studies program at Georgia State University's School of Music. Along with his love for Jazz, Ian has proven his proficiency in several styles of music including bluegrass, rock, and blues. Ian currently maintains a steady schedule of both professional sideman and band leader of Newberry Jam. He has had the privilege to share the stage with grammy winners Kofi Burbridge and Yonrico Scott (of Derek Trucks Band), Yonrico Scott Band, Bobby Lee Rodgers (of the Codetalkers), Sleepy Brown, Joi, and Killer Mike. Ian looks forward to traveling abroad with his music.

Justin Roberts: Upright Bass and Vocals - Music entered Justin's life at the age of 15 when he began to play guitar in the Atlanta rock music scene with a band called To Whom It Concerns. They won many competitions which lead to a sponsorship by Miller Lite and a performance slot at Lollapalooza 2003. It wasn't until he was 24 years old before he was introduced to folk, bluegrass and the upright bass. After converting from guitar to upright bass Justin began performing with various local bluegrass, folk and blues artist. Having a great ear for music and a lifelong background of technology Justin recently began a new career as a recording engineer and producer for Namaste Studios. In 2009 he received engineering credits on Mariah Carey's album "Memoirs of an Imperfect Angel" and on Katy Perry's album "Teenage Dream" released in August 2010. Justin also produced, engineered and co-mixed the Smokey's Farmland Band albums, "80 Mile Getaway" and "Live Positive".  

Jared Womack: Resophonic Guitar - Jared was born in Georgia in 1981, and from an early age he was heavily influenced by music from various genres such as southern rock, country, bluegrass, hard rock and heavy metal. He began dabbling with the drums and guitar at the age of eight, with guitar eventually becoming his primary instrument by the time he was 13 years old. Having played music for the majority of his life already, his early twenties found Jared making musical connections which would eventually lead him in a new direction. The world of bluegrass and acoustic music began to appeal to him on a new level, and soon thereafter, the Dobro would enter into his life. Many people would say that Jared took to the instrument naturally, developing his touch quickly and effortlessly. Never wanting to become complacent with his abilities, much of Jared's development on the Dobro has stemmed from playing with many different musicians as part of his lifelong quest to improve his technique. His hard work is becoming evident as Jared won 1st Place at the Rockygrass 2014 Dobro Competition in Lyons, CO. On a constant search for new sounds and styles, Jared draws from a diverse blend of musical sources while remaining firmly rooted in the world of bluegrass and acoustic music.